Bismillah Khan's shehnais stolen from son's house in Varanasi, case registered against 'unkonwn' persons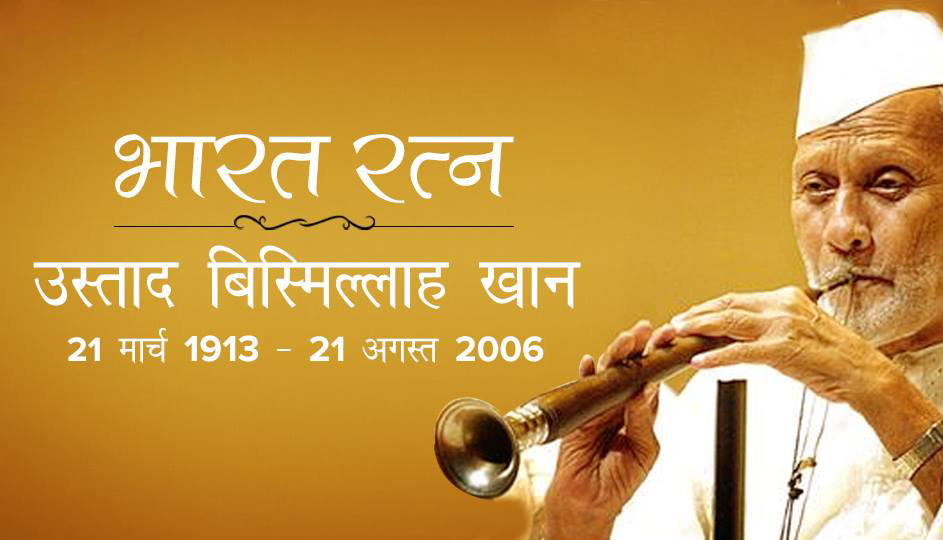 Ten years ago when we visited him at Heritage Hospital in Banaras where he was struggling for his life, he indeed wanted his Shehnai to be kept next to him at hospital bed. When we enquired about his shehnai, the maestro with tears in his eyes said: "Begum (shehnai) ghar par hain, mein yahan akela hun."
Ten-year later an FIR was registered at the Chowk police station against unknown persons, alleging that five shehnais belonging to late musician and Bharat Ratna awardee Ustad Bismillah Khan have been stolen from his son's house in Varanasi.
According to family sources the shehnais held a "special meaning" for the family. The four silver shehnais were gifted to Bismillah Khan by former Prime Minister P.V. Narsimha Rao, Congress leader Kapil Sibal on his last birthday, former Bihar Chief Minister Lalu Prasad Yadav and Shailesh Bhagwat, a fan from Mumbai, respectively.
Along with the five shehnais — four made of silver and the fifth a mix of silver and wood — a silver plate of the Inayat Khan award won by the maestro and two gold bangles have also gone missing from the house in the Dalmandi area of the temple city in Uttar Pradesh.
The family says it is most upset by the theft of the fifth shehnai, made of silver and wood. "The four silver shehnais were gifts. But the wood and silver one was his legacy, his heritage. He would play that during the Muharram procession every year. "
The family of the maestro had recently shifted from their ancestral house in the Sarai Harha area to a new location in Dalmandi. On November 30, the family visited their ancestral house for a few days and when they returned to their new house on Sunday night they found the lock broken and the items missing.
Circle Officer Dashashwamedh is probing the case and on Monday evening personnel of the Special Task Force (STF) also visited the house belonging to Bismillah Khan's son Kazim Hassan. The shehnai legend's family is saddened by the theft of the "invaluable items."
"It is true that the shehnais were stolen from the house. The items have not been recovered. Investigations are on," Senior Superintendent of Police (Varanasi) Nitin Tiwari said.
Meanwhile, in the last half a century or more, no one could think of shehnai without Bismillah Khan or vice-versa. It is he, who, in fact, gave a popular instrument the capacity and courage to raise to be admitted to the hoary company instruments of Hisndustani classical music globally.
A humble man, he believed that musicians were supposed to be heard and not seen. For him, the shehnai was his begum and he had made this a known fact after the death of his wife. But his begum was not there at his bed side when he breathed his last at the Heritage Hospital in the wee hours of August 21, after struggling for life for more than 96 hours, exactly five months after when he had celebrated his 91st birthday after cutting a 91 kg cake in 2006. He died of cardiac arrest.
The Ustad had the rare distinction of playing the shehnai as the Indian flag was unfurled at the historic Red Fort in New Delhi to mark the country's independence from Britain on August 15, 1947. He died without his shehnai.
The legendary Ustad was born on 21 March 1916. His ancestors were court musicians in the princely state of Dumraon in Bihar and he was trained under his maternal uncle, the late Ali Bux "vilayatu". He spent his child hood in the holy city of Varanasi, on the bank of the Ganga, where his maternal uncle was the official shehnai player in the famous Vishwanath temple.
It was due to this that Bismillah Khan became interested in playing the shehnai. At an early age, he familiarized himself with various forms of the music of Uttar Pradesh, such as thumri, chaiti, swanti etc. Later he studied Khayal music and mastered a large number of ragas.
For the Ustad, music, sur and namaz were the same thing. His namaz was the seventh suddh and five komal surs. Even as devout Shia, khan sahib was a staunch devotee of Saraswati, the hindu goddess of music.
For the man who took the shehnai out of the wedding pro¬cessions and naubat-khaanaas – as he brought it to the centre-stage of classical respectability, his instrument was also his Quran. Where others see conflicts and contradictions between music and religion, he saw only a divine unity.
Once Ustad had said "We reach Allah in different ways. A musician can learn. He can play beautifully. But unless he can mix his music with religion, unless he strives to meet God, he will only have kalaa (art) but no assar (mystical union). He will always stand at the ocean and never reach the heights of purity."
On January 26, 2006 when we met him to show the ornamental issue of the monograph he said; "Alham Dullillah (Allah at last inspired you to accomplish a good work.)" Then he wrote: 'Alham Dullillah, Bismillah Khan."
Bismillah Khan had played his shehnai in Afghanistan. Europe, Iran, Iraq, Canada, USA, USSR, Japan, Hong Kong and almost every capital city across the world. The Government of India bestowed on him the title Padmashri, Padma Bhushan, Padma Vibhushan and Bharat Ratna for promotion of shehnai globally. He though felt that he had barely reached the shore after 91 years and his search was still incomplete.
On March 25, 2006 for the first time, he had celebrated his birthday with such fanfare four days after his actual birthday due to serial blasts in Benaras. He had then said "Meri antim khwahish aap log pura karen. Mujhe India Gate par bajana hai. India Gate hamara hai. Jab India Gate par Bismillah Khan ki Shehnai bajegi to puri Dilli ruk jayegi. (You will fulfil my last wish of perform¬ing at India Gate where Bismillah Khan will play Shehnai and the whole Delhi will stop to listen)."
A month later, we got the permission of the Government of India and went to his place to invite him. By that time he had fallen ill. We had to extend the date from July 15 to August 9, 2006. But he was still unwell. When we reached Heritage hos¬pital on August 18, he inquired about the programme and said: "Thora kamzor ho gaya hun….dekho in logon ney kya kar diya hai…..mein jald theek ho jata hun phir tumharey sath Dilli chalunga aur India Gate par shehnai bajaunga. (I have become weak…see what these people have done…I will get well and will accompany you to India Gate.)" Alas!
Until Ustad Bismillah Khan burst upon the center-stage of Indian music with his strange little instrument at the All-India Music Conference in Calcutta in 1937 at the age of 20, the shehnai was considered an instrument reserved for wedding processions or Hindu religious rit¬uals.
Ustad was confident that of his six sons (Mehtab, Nayyar. Hussein, Famin, Kazim, and Nazim), Mehtab and Nayyar play good shehnai (Mehtab aur Nayyar bahut achcha bajatey hain…… riyaaz karna hoga…. dam aur shudh dono sadhna hoga…… Insha Allah. (Mehtab and Nayyar play very well… they must do prac¬tice…breath and purity has to be attained… Inshallah)." However, Nayyar is no more and his five shehnaies are stolen.