CAN CONGRESS EVER FIND A LEADER OUTSIDE NEHRU-GANDHI DYNASTY? FALLING BACK ON SONIA AS INTERIM PRESIDENT WILL BE A MIXED BLESSING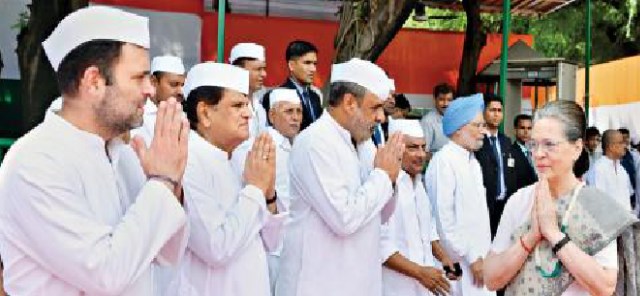 While demitting the office of the Congress president, Rahul Gandhi made a statement of far-reaching importance for which he must be praised. He observed that the Congress must pick a president outside the Nehru-Gandhi dynasty. This was wish of several Congress leaders, but they were scared of making their opinion public. But when the time came to pick someone from outside the dynasty, the Congressmen badly failed.
From Dalit leaders like Sushil Kumar Shinde, Mallikaarjun Kharge and Mukul Wasnik, to heartland OBC and upper caste forces like Ashok Gehlot and Anand Sharma and young guns like Sachin Pilot and Jotiryaditya Scindia, the Congress was abuzz with names of a possible successor to Rahul. But, regrettably, could not agree on any of them as the party president outside the dynasty.
Ultimately, the Congress Working Committee requested longest serving party president —the 72-year-old Sonia Gandhi — to take over the reins of the party as interim president and she agreed. She had led the party for 19 years. It seems the only glue that can keep the party together is still from the Nehru-Gandhi dynasty. If Congressmen do not like anyone outside dynasty to lead them, then why not persuade Priyanka Gandhi to lead the party? She is dynamic, charismatic and possesses leadership qualities. One can understand Rahul quitting taking responsibility of the party's debacle in the 2019 election but he should not put a blanket ban on his sister from leading the party. After all, Sonia Gandhi, too, is from the dynasty. Both Rahul and Sonia should persuade Priyanka to lead the party now that it is clear that Congress leaders cannot agree on a name outside the dynasty.
For two-and-half months, ever since the Lok Sabha results and Rahul's resignation, the Congress has remained directionless. It would not choose a party President. It has been paralyzed in Parliament even as government has pushed a wide range of legislations. It has been divided on issues as critical and Jammu and Kashmir. There has been a steady stream of exists from the party. Factional feuds have broken out in multiple states. A coalition government in Karnataka has fallen. And rift between old guards and younger leaders got sharpened.
The choice of Sonia Gandhi will bring stability. She is universally respected. The daily desertions of leaders may stop, and the decision may also prevent a larger exodus that could have followed if a more controversial non-family leader had been picked up. Sonia Gandhi will also be able to stitch together broader Opposition unity. But her challenges are enormous. She may not be able to revive the party organization bottom up, where the cadre is demoralized.
The party's prospects in the next set of elections look bleak. There is younger aspirational, restive generation of voters who do not find the idea of family-run party attractive. BJP has now a counter to Sonia's strong welfare politics with its own set of housing, water, electricity, gas cylinder and health policies. The Congress may be able to regain some order with Sonia Gandhi at the helm, but the task of revival and rejuvenation will be real test.
The absence of leadership and lack of direction in the Congress has prodded many leaders to leave the party. Sonia Gandhi's return as President may stem the bleeding. But the party will need to do much more if it wants to regain credibility among the voters. A first step could be end of nomination culture in the party and hold elections for leadership positions. That itself could rejuvenate the party and help it attract young energetic people.
The Congress also needs to restate its principles so that citizens know where it stands on crucial national issues national issues. It needs fresh faces, bold strategist and new political language to come back into reckoning. It could take a leaf out from the BJP's playbook, which recast its leadership after losing the 2009 general election and acquired a new edge. Even though return of Sonia at the helm draws attention to the impoverishment of Congress options, she could step up to this moment and ensure a genuine transition by taking tough decisions.