BJP, SP FORGE ALLIANCE WITH SMALLER PARTIES AND CASTE GROUPS BID TO EXPAND SUPPORT BASE IN ASSEMBLY POLLS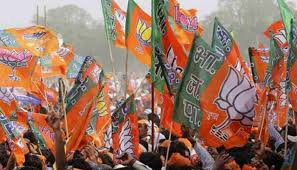 Since caste is dominant factor in forthcoming assembly polls, both the ruling BJP and its main rival Samajwadi Party are making alliances with small regional parties and various caste group to expand their social base.
BJP is working very hard to get support from non-Yadav OBC and MBC on the one hand and non-Jatav Dalits on the other. In order to retain support of the powerful Kurmi backwards, the BJP leadership went out of its way to forge an alliance with Apna Dal, led by Anupriya Patel.
It would be worth mentioning here that BJP contested 2014 Lok Sabha polls with Apna Dal and made Anupriya Patel minister in the central government.
Again in 2017 BJP contested the UP Assembly polls with Apna Dal and again in the 2019 Lok Sabha polls both parties had an alliance. But this time Apna Dal was not given a ministerial berth.
Shocked by the total apathy of BJP leadership, Apna Dal president started negotiations with other parties and there were reports regarding a possible alliance with Samajwadi Party.
Within no time Union Home Minister Amit Shah became active and invited Anupriya Patel for discussions, which resulted in her becoming a central Minister and alliance for UP polls was finalised.
Similarly, BJP took the initiative and got in touch with Sanjay Nishad and finalised a alliance for the assembly polls. It may be noted that the Nishad community belongs to most backward caste and plays an important role in eastern UP.
Likewise BJP also finalised an alliance with six other parties belonging to Hissedari Morcha, a coalition of smaller parties that came together to provide voice to their communities. These communities include OBC groups including Bind, Gadaria, kumhaar, Dhivar, kashyap and Rajbhar.
The coalition convenor, Hissedari Morcha Kewat Ramadhin Bind, said that he found out that BJP was working on non-Yadav backwards and Dalits so he approached senior leaders for the alliance. This morcha is expecting at least 15 seats from BJP for assembly polls.
The parties of Hissedari Morcha are Bhartiya Manav Samaj Party, Shoshit Samaj Party, Bhartiya Suheldev Janata Party, Bhartiya Samta Samaj Party, Manavhit Party, Prithviraj Janshakti Party and Musahar Andolan Manch.
On the other hand, the major opposition party and main challenger Akhilesh Yadav is also entering into alliance with smaller parties and different caste groups for his Samajwadi party to reach out to larger group of voters.
Akhilesh Yadav repeatedly announced that he would not enter to alliance with any national party. He had a bad experience of alliance with Congress and BSP in the past.
Akhilesh recently met RLD national president Jayant Choudhry and finalised an alliance, which is expected to play a very important role in western UP. Akhilesh has decided to leave 36 seats for RLD and out of these a few SP candidates would contest on RLD symbol. The farmers agitation during last one year has given tremendous boost to RLD, resulting in good response to public meetings of Jayant Choudhry. The combination of Jat, Muslims and other backwards will form a powerful group to take on BJP.
Akhilesh Yadav also finalised alliance with powerful Rajbhar leader Om Prakash Rajbhar and his party Suheldeo Bhartiye Samaj Party, which commands great influence in eastern UP. Om Prakash Rajbhar, who had contested with BJP in 2017 assembly, was very critical of Yogi government for ignoring the most backwards castes. During 2019 Lok Sabha polls Om Prakash Rajbhar and his party opposed the BJP candidates and after the polls he parted company with BJP.
After finalising an alliance with Suheldeo Bhartiye, Akhilesh and Om Prakash Rajbhar addressed a joint public meeting in Mau where the alliance was announced.
Significantly Janwadi Party Socialist also announced its support to Akhilesh Yadav and his party in the assembly polls. The party belongs to the most backward caste people having influence in 15 to 20 seats in eastern UP. Party president Sanjay Chouhan held an impressive meeting of party workers from all over the state, where Akhilesh Yadav was the chief guest. Speaking on the occasion, Akhilesh promised to share power with the so far neglected MBCs.
Much significance is attached to the recent meeting of powerful Thakur leader and former minister Raghuraj Pratap Singh with founder of Samajwadi Party Mulayam Singh Yadav at his residence.
After meeting Mulayam Singh Yadav, Raghuraj Pratap Singh, known as Raja Bhaiyya, announced that his party Jansatta Dal Loktantrik was open for alliance on the basis of a respectable seat-sharing formula.
Akhilesh Yadav is also likely to patch up with his estranged uncle Shivpal Yadav and reach an understanding with his Pragatisheel Samajwadi Party and may leave a few seats as well.
NxtGen: The pioneer in data management
NxtGen is a leader in the space of Datacentre and cloud-based services. NxtGen's primary aim is to help businesses of different scale grow substantially by creating additional capacity from their existing infrastructure, while reducing complexity and cost significantly.
NxtGen's vision is to be the market leader in the Data Centre industry. NxtGen's operating style and company ethos are the differentiators to provide customers with real time solutions. NxtGen understands both the business of technology and the technology of business. NxtGen teams explore the newest products, the latest technologies and the most insightful studies to propose the best machines for IT Infrastructure needs.
NxtGen is driven by efficiency and excellence in how we operate and how we help our customers operate. We believe that truly efficient technology is that which saves time, energy and cost. We want our customers to pay for what they use and configure the best solution to fit their need.
NxtGen has fully functional offices in Bangalore, Mumbai, Delhi, Chennai and Hyderabad, we are slowly expanding our base of business operations in the Middle East and South Asia.
NxtGen is the honored recipients of CIO CHOICE 2016 Honor & Recognition Award in the Hyper Convergence category. They have also been recognized by Gartner as a Cool Vendor in 2014 for their realistic vision. In addition to this, they have been one of the six organizations in the world (and the first in India) that has been certified by SAP® in infrastructure operations services. Besides, Microsoft recognized them as the National Hosting Partner of the Year in 2014. They are also proud of their association with Intel as they are working with the company on cloud technologies.